Dr Nirav Patel
Dr Nirav Patel completed his Paediatric Surgery training in 2019 through the University of the Witwatersrand.
He is currently a consultant at Chris Hani Baragwanath Academic Hospital, the busiest hospital in Africa, world-renowned for its training excellence. Dr Patel's training at Chris Hani Baragwanath and Charlotte Maxeke Johannesburg Academic Hospitals afforded him the opportunity to gain substantial experience in the management of congenital anomalies, neonatal surgery, general paediatric surgery, paediatric urology, paediatric oncology, paediatric colorectal surgery, paediatric hepatobiliary surgery, paediatric endoscopy and paediatric burns and trauma.
Dr Patel holds a post as a lecturer at the University of the Witwatersrand and has a strong interest in academic research, with multiple peer-reviewed publications in local and international journals and textbook contributions.  Dr Patel has a strong commitment to surgical education, serving as the President of the South African Society for Surgeons in Training (SASSiT) during his registrarship.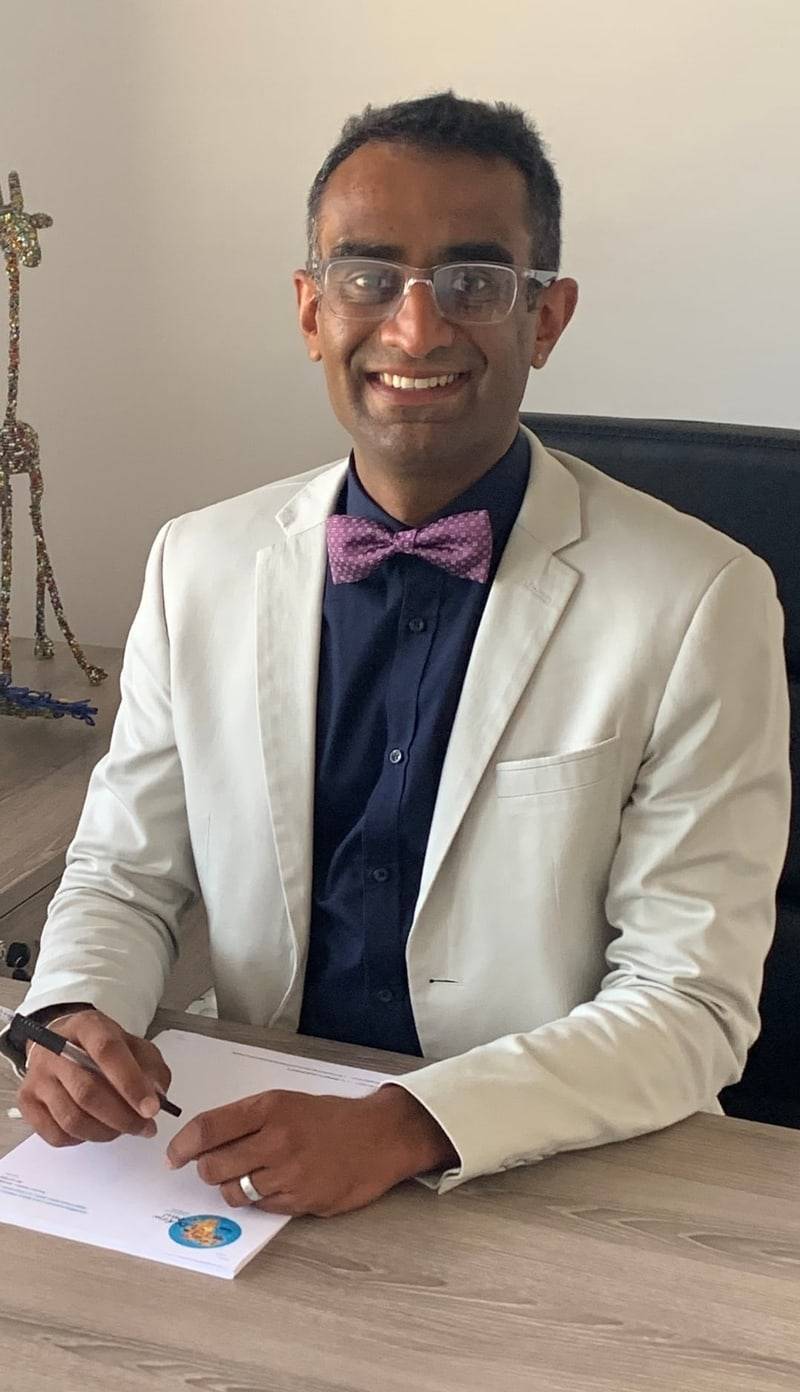 DR PATEL'S QUALIFICATIONS
BA(Hons) (Canada), MA (Wits), MBBCh (Wits), Mmed (Wits), FC Paed Surg (SA)
S CONNOR, G BRISIGHELLI, N PATEL, M LEVITT
Clinical Quiz—A Rare Case of Anal Canal Duplication in the Context of Currarino Syndrome.
European Journal of Pediatric Surgery Reports. 09. e68-e71. 10.1055/s-0041-1735595.
A ZANINI, N MAISTRY G BRISIGHELLI, T GABLER, D.S HARRISON, C WESTGARTH-TAYLOR A WITHERS, J LOVELAND, N PATEL
The Burden of Disease and Pathology at a Rapidly Expanding Tertiary Paediatric Surgical Unit in South Africa.
World Journal of Surgery 45(6)
N PATEL, G BRISIGHELLI, A WITHERS, K CRONIN, M MABASO, T GABLER, D.S. HARRISON, C WESTGARTH-TAYLOR, J LOVELAND
Neonatal surgical outcomes: a prospective observational study at a Tertiary Academic Hospital in Johannesburg, South Africa.
Pediatric Surgery International 37(3):1-8
N PATEL, C KURONEN-STUART, T GABLER, I KHOFI-PHIRI
Applicability of the Revised Trauma Score in Paediatric Patients Admitted to a South African Intensive Care Unit- A Retrospective Cohort Study.
African Journal of Paediatric Surgery 18(18):150-154
A ZANINI, C.O. VON SOCHACZEWSKI, S BASSON,G BRISIGHELLI, T GABLER, A DI CESARE, V GENTILINO, M GOPAL, A GRIEVE, D.S. HARRISON, N PATEL, C WESGARTH-TAYLOR, A WITHERS, J LOVELAND 
Globalization in Pediatric Surgical Training: The Benefit of an International Fellowship in a Low-to-Middle- Income Country Academic Hospital.
European Journal of Pediatric Surgery
N PATEL, Z BHIKHOO, A WOLMARANS , L STONESTREET, I MONTEITH, Z PHETSHULA, A MBONISWENI, R ARUMAGAM, R NTUNZI, J LOVELAND , A GRIEVE
Paediatric Central Venous Access: Experience in the Largest South African Paediatric Surgical Centre.
Wits Journal of Clinical Medicine. 2. 235-240.
https://www.researchgate.net/publication/345950701_Paediatric_Central_Venous_Access
J LOVELAND, N PATEL
Thoracic trauma. 10.1201/9781351250801-83.
In book: Operative Pediatric Surgery (pp.781-786)
N PATEL, P NAIDOO, G CANDY, C JANN-KRUGER
Surgical infections at a regional hospital in Gauteng: reasons for delay to care and profile of pathologyS Afr J Surg;57(1)
N PATEL, A NICOLA, P BENNET, J LOVELAND, E MAPUNDA, A GRIEVE
Paediatric Splenectomy: The Johannesburg Experience

SAfr J Child Health 2018;12(1):21-23.DOI:10.7196/SAJCH.2018.v12i1.1431
N Patel, J Loveland
A Perspective on paediatric surgical training: opportunities and challenges SAfr J Surg 2018;56(1)
N PATEL, A LEUSINK, N SINGH, M Z Koto, T LUVHENGO
Registrar perceptions of general surgical training in South Africa: A report by the South African Society of Surgeons inTraining (SASSiT) S Afr J Surg 2018;56(2)
N PATEL, IKHOFI-PHIRI, L R MATHIVA, A GRIEVE, J LOVELAND, G D NETHATHE
Trauma related admissions to the PICU: at Chris Hani Baragwanath Academic Hospital, Soweto, Gauteng
Johannesburg Pediatr Surg Int  2017; 33(9) DOI10.1007/s00383-017-4125-0
N PATEL, A GRIEVE, J HIDDEMA, J BOTHA, J LOVELAND
Surgery for portal hypertension in children: ‍A 12 year reviewS Afr Med J 2017;107(11 Suppl 1):
S12-S15.DOI:10.7196/SAMJ. 2017.v107i11.1288
N PATEL, P NAIDOO, MSMITH, J LOVELAND, T GOVENDER, J KLOPPER
South African surgical registrars perceptions of the research component of training: Hope for the future? 
SAfr Med J 2016;106(2):169-171.DOI:10.7196/SAMJ.2016.v106i2.10310
G NETHATHE, N PATEL
Survivalafter Pneumocystis jirovecci pneumonia requiring ventilation: a case report andreview of the literature
S Afr J HIV Med. 2016;17(1), a474.http://dx.doi. org/10.4102/sajhivmed. v17i1.474
N PATEL, M PEFFER, ALEUSINK, N SINGH, M SMITH
Surgery andanaesthesia in the South African context: Looking forward
SAfr Med J 2016;106(2):135-136.DOI:10.7196/SAMJ.2016.
v106i2.10529
N PATEL, P NAIDOO, PMOSIANE, C JANN-KRUGER
HIV/AIDSassociated Kaposi's Sarcoma of the Gastrointestinal Tract: A pictorial spectrum 
SAfr Med J 2016;106(10):986-987.DOI:10.7196/SAMJ.2016.v106i10.11277
N PATEL, J LOVELAND, M ZUCKERMAN,P MOSHESH, R BRITZ, J BOTHA
Heterozygoteto homozygote related living donor liver transplant in Maple Syrup Urine Disease:  A case report
PediatrTransplant, 00: 1–4. DOI: 10.1111/petr.12439